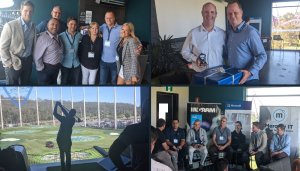 Mercury IT recently hosted an event at Topgolf for Queensland Business and IT Leaders in partnership with Microsoft, Cisco and Ingram Micro.
Topics covered cybersecurity trends, key insights and how to create a multi-layered approach to Cyber Defence.
Most noteworthy was the expert panel including;
Martin O'Riordan – General Manager and Head of Cybersecurity at Mercury IT.
Sean Beaumont – Territory Channel Manager, Modern Workplace Lead at Microsoft (Sydney)
Anthony Miller – Cyber Security Partner Specialist in Australia and New Zealand Cisco (Sydney).
Alan Downey – Cybersecurity Specialist and Sales Engineer at Cisco (Sydney).
Dan Boucaut – Security Solution Specialist at Cisco (Brisbane).
James Heasman – Professional Services Manager at Mercury IT who is a Microsoft Specialist.
All attendees enjoyed the afternoon and not only had the chance to improve their golf swing but also the opportunity to learn more about best cybersecurity practices.
Finally, a big thank you to our main sponsor Ingram for giving Mercury IT the opportunity to share best technology practices with Australian and New Zealand businesses.
If you would like to be added to our mailing list for future Business Technology Events please email events@mercuryit.com.au