As an events manager producing monthly business technology events I need to keep up with all the latest IT trends & IT New Topics… By now you would have seen the viral trend app that a lot of people are sharing on social media called "FaceApp." This is where you can take a photo and the app re-imagines that person with an extra 50 years, however I urge you not to follow this trend as as you may be exposing yourself to identity theft.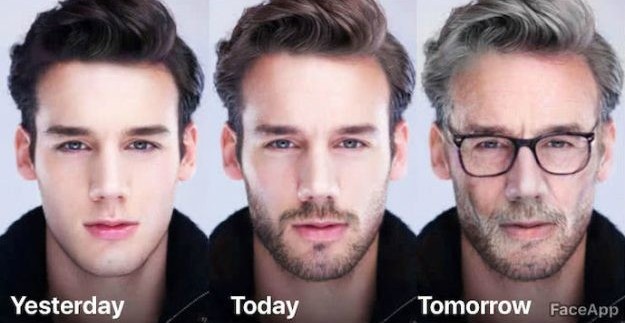 So why should you be concerned?
Beware of application T&C's when you download them. According to a news.com.au article, the terms and conditions users agree to when they purchase the app, they "grant Face App a perpetual, irrevocable, non-exclusive, royalty-free, worldwide" license to "use, reproduce, modify, adapt, publish, translate, create derivative works from, distribute and display your content."
Lawyer Elizabeth Potts Weinstein tweeted a screenshot of the terms with a warning:
"If you use Face App you are giving them a license to use your photos, your name, your username, and your likeness for any purpose including commercial purposes (like on a billboard or internet ad),"
This has been retweeted almost 17,000+ times.
The Russian developers have responded to the accusations yesterday and in a geek.com.au article and said they delete your photos after 48 hours, but not all the bio-metric data they have collected.
How can your bio-metric data be used?
They could use your data or sell it on the dark web. It could also be used to create a fake video called a deepfake. In an abc article last year How hard is it to make a believable deepfake? it says:
"a new wave of artificial intelligence technology could make it so easy to create fake videos that it will undermine the public's ability to trust what they see."
Click on the image below to see the video on the article of Barack Obama from publicly available footage, controlled by the footage of the man against the green background:
Brandon Downey, IT Service Technician from Mercury IT, said "a perfect example of correctly storing and using bio-metric data is Apple's FaceID. It does not send anything out from your phone when using it. The bio-metric data is locally stored on the phone, and is wiped when the phone is reset. Apple can not retrieve any of the bio-metric data from the phone which was a big concern when the iPhone X was released, and they put the rumor to bed immediately."
What should you do if you think someone has stolen had your identity?
Chris Haigh, Chief Information Security Officer (CISO) at Mercury IT, wrote an article "Identity theft 6 steps" with tips on how to keep you safer online. He says "If you have found that you are a victim of identity fraud, you can contact IDCARE if you are in Australia or New Zealand for assistance" https://www.idcare.org/
If you are an owner or operator of a business it would be a good idea to to discuss implementing Cyber awareness training for your staff to educate identity theft and Phishing attempts – just like OH&S awareness all those year ago!