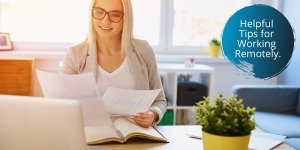 We understand that it is an unsettling time for both business and employees, many people are having to re-think the traditional way of work and adapt to the current, uncertain situation.  The team at Mercury IT have had the ability to work remotely for a number of years and we do so on a regular basis, some staff in fact only work from home. As such our staff are well suited to this type of work environment and we thought we would share some of our top tips for working from home.
Communicate, communicate, communicate….
Your work schedule might look different when working from home compared to working in the office. You may be balancing work and other duties at the same time. Communicate your schedule to your co-workers so that they know when to reach out to you and when you are available. For Mercury IT one of the best team tools we use is Microsoft teams this assists us to chat, meet, call and collaborate all in one place. Download Microsoft Teams for free.
Maintain work-life balance
Without the normal workday routine, like driving to work, it can be harder to unplug. Make sure to stay hydrated, take breaks and give yourself opportunities to "clock out" from remote work at the end of the day. This can be one of the most challenging aspects for remote work beginners, as the world is becoming increasingly connected.
Team collaboration
Working remotely can feel a bit isolating, especially if it is new to you. It's important to create opportunities for the whole team to virtually get together, whether it's large brainstorms with online tools or daily check-ins over a virtual coffee.
Morale
Stay aligned with company culture. Even though working remotely can drastically change interactions since you're no longer together in person, you can still make sure that the little things you did in the office continue. You might choose to send funny, work-appropriate GIFs over Teams, text, or email; chatting about sports or your family or anything else you would normally do by the coffee machine. These little things help reduce feelings of isolation and anxiety and work towards team morale.