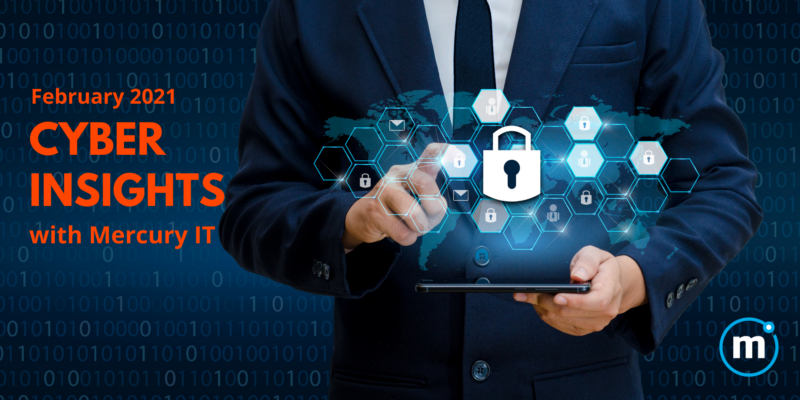 Welcome to the latest edition of Cyber Insights with Mercury IT.  This month we highlight a popular phishing scenario and how to stay safe from this advanced attack. We also touch on the latest security breaches and cybersecurity safety tips for now and later! Read Full Cyber Insights here >>
Current Scams
Here's a popular phishing scenario: You receive an email with a link. The link takes you to a phony login page with the name and logo of a legitimate website. Once you submit your username and password, the information is sent straight to the bad guys. Cybercriminals love to use these phony look-alike login pages to steal your credentials and access sensitive information.
Now cybercriminals have developed a way to make look-alike pages even more convincing. Scammers use a special tool to automatically display your organization's name and logo on the phony login page. They can even use this tool to populate your email address in the corresponding login field. This creates a false sense of security because many legitimate websites remember your username if you have logged in previously.
While this is an advanced attack, you can still stay safe by practicing the tips below
Never click a link in an email that you were not expecting.
Remember that any site, brand, or service can be spoofed.
When you're asked to log in to an account or online service, navigate to the official website and log in. That way, you can ensure you're logging in to the real site and not a phony look-a-like.
Cybersecurity Tips 
New innovations in technology are being developed at a rapid rate. But new technology comes with new risks. Let's go over some examples of how technology will change in the future and ways you can stay safe.
5G Cellular Networks
You may think a cellular network is only used for cell phones, but it can also be used for GPS devices, wifi hotspots, logistics tracking, and more. 5G stands for the fifth generation of cellular networking. In short, 5G is a dramatically faster and more stable way to connect to the internet.
While this is great for connectivity, it could be a major struggle for cybersecurity. Current security monitoring methods may not be strong enough for the speed and amount of traffic created on a 5G network.
The Internet of Things
The Internet of Things, or IoT, is a network of connected devices designed to work together using an internet connection. A common example of this is the use of "smart" devices in the home. Smart devices connect and communicate with one another using your wifi network. IoT is being used and developed across a number of industries, from healthcare to logistics.
Each device within an IoT network is a potential risk. As more devices are connected to one another, an organisation's attack surface grows. Meaning, there are more targets for cybercriminals to attack and more points of entry to protect. As these networks grow, it is essential that cybersecurity measures grow with them.
Safety Tips for Now and Later
Stay Informed- No matter what the future holds, it is always harder to fool an educated person. Follow trusted news and media outlets for the latest updates in technology and cybersecurity.
Be Suspicious– As technology changes, cybercriminals will find new ways to attack. If something doesn't look or feel right, report it. It is better to be safe than sorry!
Time Travel to the Past-  Maybe technology isn't quite there yet, but you can use classic communication to outsmart cybercriminals. For example, if you receive a suspicious email, reach out to the sender by phone to verify that it's legitimate.