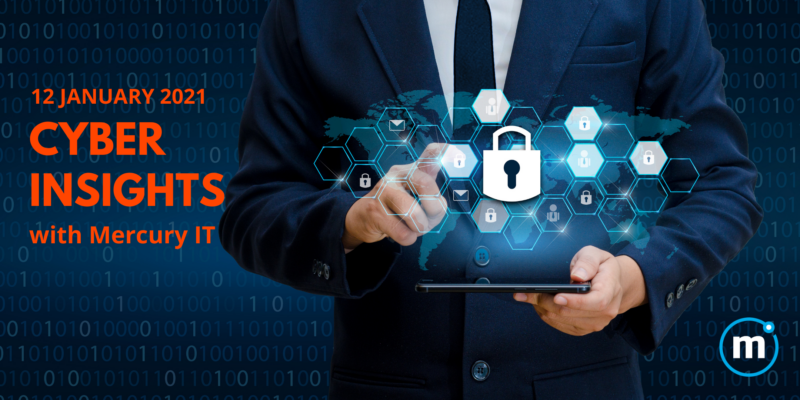 Welcome to the latest edition of Cyber Insights with Mercury IT.  This issue highlights data breaches and what to do if you think your information has been compromised.
Cyber Insights Overview 
Watch Out for Impersonation Scams – Cybercriminals are attempting to take advantage by using the Australian Cyber Security Centre (ACSC) name to send emails to individuals containing a malicious link requesting they download 'Antivirus' software. If clicked on, the link downloads and installs malicious software to the individual's computer.These cybercriminals are using social engineering tactics to convince potential victims to install remote desktop software. If successful, these criminals will be able to steal your banking information.

The government issued the following statement, "The Australian Cyber Security Centre (ACSC) warns some Australians are receiving phone calls or emails from scammers claiming to be ACSC employees and that the receiving person's computer has been compromised."  > Read More
Business software solutions provider Epicor Software has disclosed a breach that may have exposed business data but did not impact daily operations. The incident had been reported to relevant authorities and is currently under investigation. > Read More 


What's the Deal with Data Breaches?

Data breaches are becoming more and more common these days. You hear about them in the news all the time. So you might be wondering: what exactly is a data breach? A data breach is when secure information is taken from a trusted environment without permission.

The bad guys can use this information to steal your identity, hack into your online accounts, or use the information for targeted phishing attacks to gather even more information about you.

However, just because the data was exposed does not necessarily mean it's already being used by the bad guys. It only means that bad guys can easily gain access to it. There are steps you can take to protect your information even if you were exposed in a data breach.

How do I protect my information?

Use secure passwords. You may also want to try using a password manager.
Set up two-factor or multi-factor authentication.
Keep your personal information secure. Never share your passwords or personal information with anyone you don't know. Shred documents with your personal information on it before throwing it away.

What do I do if my information was already exposed in a breach?

Don't panic! Take a moment to assess the situation. Ask yourself: What sort of information was exposed? Do I need to notify my bank or other entities? What steps should I take to make my information more secure now?

If your password was exposed, we recommend changing your password for all online accounts associated with that password immediately. Make sure the password is complex or use a password generator to create one for you. For extra security, you may want to set up two-factor or multi-factor authentication.
If your credit card number or bank account number was exposed, we recommend calling your bank or cardholder and cancelling your card(s) immediately. Let them know that your information was exposed so they know to look out for charges that may be fraudulent.

If you have any questions regarding Cybersecurity or require assistance with Information & Communication Technology (ICT) services please contact us.