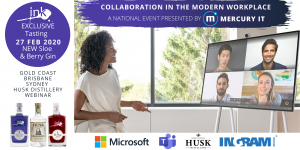 Mercury IT recently presented a national sold out event "Collaboration in the Modern Workplace" with global technology leader Microsoft and premium paddock to bottle Husk Distillers.  The 150 attendees learnt how to design a collaborative culture at work and teamwork without boundaries, a highlight of the event was the national Gin & Rum tasting including the world-famous Ink Gin and the NEW Sloe & Berry Gin!
Topics covered at the event included workplace efficiency, environmental impact, travel time and the cost to business. Questions considered throughout the presentation;
Would you like to know how to bring remote employees together to enable teamwork anywhere?
Are you concerned about the impact your business travel has on the environment?
Would you like to minimise your commute time to meetings?
Do you want to increase your business's profit by lowering business travel costs and eliminating travel times for employees?
Keynote Speakers for the Event:
Martin O'Riordan – General Manager and Head of Cyber Security at Mercury IT, introduction to 'Collaboration in the Modern Workplace'
Philip Meyer – Partner Technology Strategist at Microsoft, presented 'Engage and Empower Teams' with Microsoft Teams
Brett Murray – Director Surface Commercial at Microsoft, presented 'Collaboration in the Modern Workplace' with Microsoft Surface for Business
Quentin Brival – Head Distiller / Production Manager at Husk Distillers, presented Husk Distillers Gin & Rum Tasting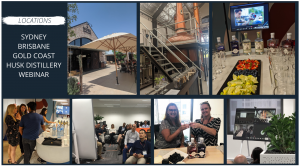 A big thank you to our sponsors Microsoft and Ingram Micro for giving Mercury IT the opportunity to share best technology practices with Australian and New Zealand businesses.
If you would like to be added to our mailing list for future Business Technology Events please email events@mercuryit.com.au